Washington – Jamaal Bowman pulled a fire alarm in a capitol office building on Saturday after which House Speaker Kevin McCarthy called for Rep. Jamaal Bowman, D-N.Y., to be punished, comparing it to the Jan 6 rioters who attacked the building.
McCarthy said, "When you think about what was happening inside the building when others were trying to change it, what kind of behavior was exhibited towards them."
McCarthy went on to say that the Ethics Committee should take the pulled fire alarm "seriously."
McCarthy stated, "This shouldn't happen without consequences." "I'm going to have a conversation about this with Democratic leaders. But this shouldn't happen without consequences. It's embarrassing."
Bowman later issued a statement saying it was an accident.
He said on Saturday night, "Today, as I was rushing to vote, I came to a door that is usually open for voting but was not today." "I am embarrassed to admit that I accidentally activated the fire alarm, thinking it would open the door. I apologize sincerely for any disruption caused by this mistake."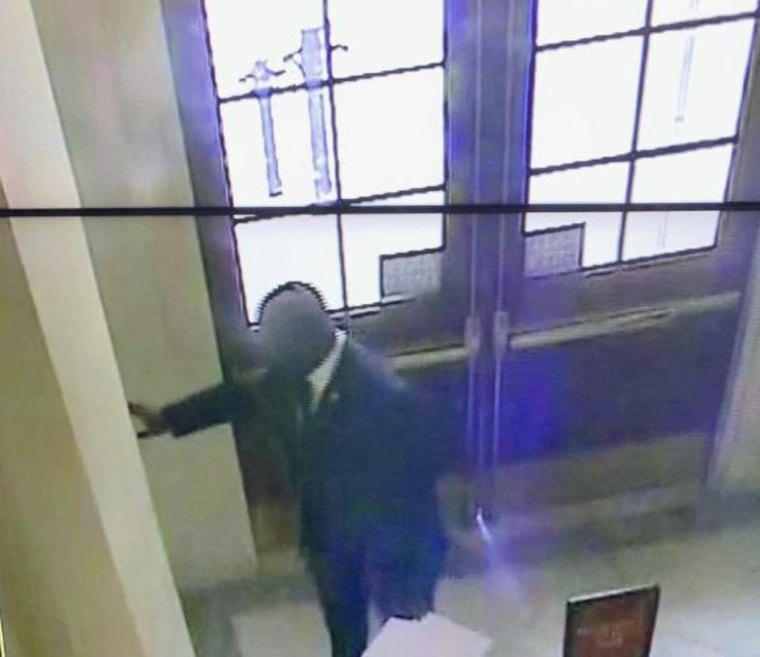 "But I want to be very clear; this was not me, in any way, attempting to delay any vote. This was the opposite – I was attempting to vote immediately, which I did, and joined my colleagues in a bipartisan effort to keep our government open," he said.
Security footage of the incident has been distributed to officials to identify the person who triggered the alarm, who is familiar to this case.
Democratic Representative Hakeem Jeffries, D-N.Y., said he had not yet seen the video of the fire alarm being pulled when asked.
He said, "Until I see the video, I have no further comment."
According to a statement, the U.S. Capitol Police are investigating, without naming Bowman, and the House Administration Committee is also investigating.
A Twitter account previously known as "Rep. Jamal Bowman" wrote a post on X, saying, "Rep. Jamal Bowman pulled the fire alarm in Cannon this morning." "An investigation is underway."
The post was signed by the committee's chairman, Bryan Stile, R-Wisc.
And fellow New York Representative Nicole Malliotakis, a Republican, said on X that she will introduce a resolution to expel Bowman from the House. She wrote, "This is the United States Congress, not New York City High School. This behavior warrants expulsion, and I am introducing a resolution to do so."
The fire alarm went off in the Cannon office building, which is connected to the Capitol through an underground tunnel, as Republicans were trying to start voting on a 45-day measure to keep the government open.
The Capitol Police spokesman said in a statement, "Today at 12:05 p.m., the fire alarm on the second floor of the Cannon House Office Building was activated." "The building was evacuated, and U.S. Capitol Police officers inspected the building. After determining there was no threat, the building was reopened. An investigation into what occurred and why is ongoing."
It appeared that Democrats were trying to delay the start of voting, which they had very little notice of. Some complained that Republicans were trying to vote for the Republicans before they had time to read the bill.
Democratic leader Representative Hakeem Jeffries delivered a 52-minute speech, seen as an effort to give his fellow members and staff time to determine whether their party would support the bill or not.
Ultimately, voting began over two hours after the scheduled time, and Democrats cast heavy votes in favor of the bill.
About Jamaal Bowman
Jamaal Anthony Bowman, born on April 1, 1976, stands as an American statesman and educator who has been representing New York's 16th congressional district since 2021. This district encompasses a significant part of the northern Bronx region, as well as the southern sector of Westchester County, inclusive of locales such as Mount Vernon, New Rochelle, and his hometown of Yonkers.
Before venturing into politics, Bowman was the visionary behind the Cornerstone Academy for Social Action, where he served as the school's principal. Situated in Eastchester, Bronx, this institution was a public middle school. Known for his progressive stance, Bowman is an active member of the Democratic Socialists of America's Lower Hudson Valley chapter. Notably, in the 2020 Democratic primary, he achieved a remarkable victory by defeating Eliot Engel, who had held the position for an astounding 16 terms.
Notably, Bowman is a part of the Squad, a cohesive group of progressive House Democrats dedicated to advancing their shared ideals and principles.