The commotion around "Now and Then" – officially presented as "The Last Beatles Song" and mistakenly dubbed as the "first new song in 50 years" by some – calls for a reality check.
Indeed, it's a "fresh" Beatles tune showcasing the entire quartet, encompassing the beloved John Lennon and the iconic George Harrison.
However, it's not an unearthed "Abbey Road" outtake (those were all discovered long ago), and Lennon's part was actually recorded and likely written years after the Beatles disbanded.
The origin of "Now and Then" is similar to "Free as a Bird" and "Real Love," the other two "new" Beatles songs released after 1970: they were all recorded and provided as rough Lennon home demos at the end of the 1970s.
In 1994, they were completed by surviving members at the urging of Lennon's widow, Yoko Ono.
These songs were initially released in 1995 and '96 as part of the three-volume "Beatles Anthology" outtakes collection (along with extended format videos). Two songs were fully finished and released on volumes 1 and 2, but Volume 3 was released without Volume 1.
At the time, the living members – Paul McCartney, Ringo Starr, and Harrison, along with Anthology co-producer Jeff Lynne – recorded instrumental support for "Now and Then but struggled to finish it satisfactorily due to Lennon's piano-caused muffled vocal passages in the demo (as extensively explained in last year's 12-minute documentary video).
However, with the use of AI technology, similar to what Peter Jackson did in his 2021 "Get Back" Beatles documentary to separate voices from background noise, they were able to separate Lennon's vocals effectively.
Last year, McCartney, Starr, co-producer Giles Martin, and others finished the song, leaving Lennon's original vocals and Harrison's 1994 guitar track intact. In this way, this "new" Beatles song was recorded in three separate segments over nearly 45 years.
So, the real – albeit unconventional – question is whether this song fits into the vast legacy of Beatles or their posthumous solo works. Well, it doesn't quite, but it's still an unexpected joy that serves as a symbol of completion for the group's last unfinished work.
The beginning of the song should be enticing for fans: it opens with a familiar Beatles count-in, followed by classic Lennon-esque piano chords and a twangy guitar, and then – that voice, the ancient, singing "I know it's true, it's all because of you," closely following Lennon's distinctive style.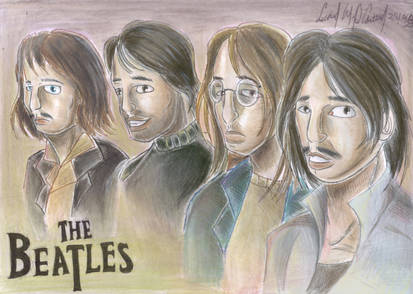 The other members of the group immediately join in – Starr's drums, a definite McCartney bassline, subtle harmonies on the vocals, and an orchestra that subtly echoes "Eleanor Rigby."
Further into the song, McCartney pays homage to Harrison by playing a brief slide guitar solo, and in some places, he strengthens Lennon's main vocals, where it might have wavered or been unclear on the demo.
It's a heartfelt ode to what might have been, with John Lennon's voice once again harmonizing with his bandmates and joining their musical journey.
This track bears resemblance to "Free as a Bird" and "Real Love," and it's reasonable to affirm that they've elevated it to its utmost potential.
Taking a sip from the glass reveals that it feels more like a rough and incomplete sketch of a song, which has been brought back together and elaborated upon, rather than a complete one.
The song conveys this in a distinctive manner: envisioning Lennon's satisfaction with these verses, "I understand it's accurate,
it's all due to you, and if I were able to persevere, it's all thanks to you," is a challenge, as they evoke the uncomplicated lyrics and the Bob Dylan-inspired roots that the band experimented with during the mid-1960s.
In the same way, the song has been reverse-engineered into a clear structure – as can be heard in the video where McCartney can be seen organizing different sections.
But it's precisely this kind of generosity that people despise, and there's no point in raining criticism on the parade. And although this may be the last "new" Beatles song, the parade will continue for years to come.
Upcoming re-releases of popular "1962-66" and "1967-1970" compilations – known as the Red and Blue albums – will include AI-assisted remixes of the group's early material (complete separation of instruments was not possible with the technology of the time), and there are still five early albums waiting for the full deluxe treatment that we saw with last year's "Revolver" remix.
And beyond that, it seems inevitable that the group's raw live recordings and countless hours of video footage will also receive AI treatment. The Beatles' revival will keep us all alive.
So, in the end, "Now and Then" isn't a lost Beatles classic. But in the context of McCartney's famous quote about the criticism of the "White Album," it can be summed up as, "It's a bloody new Beatles song, shut up!"