A jury has found Sam Bankman-Fried guilty of all seven criminal charges against him.
The co-founder of FTX may face a maximum sentence of 115 years in prison.
Sam Bankman-Fried's 31-year-old son, a graduate of Stanford, was implicated in a conspiracy to commit wire fraud against FTX customers, a plot to defraud Alameda Research lenders, securities fraud, and conspiracy to commit securities fraud,
as well as conspiracy to engage in commodity fraud and money laundering against FTX investors.
He entered a plea of innocence in response to the accusations, which were associated with the decline of FTX and its affiliated hedge fund, Alameda, in the final months of the previous year.
After reading the verdict, New York Southern District attorney Damien Williams said, "Sam Bankman-Fried has perpetrated the largest financial fraud in American history.
While the cryptocurrency industry may be relatively new and players like Sam Bankman-Fried may be new, this kind of corruption is as old as time. It has consistently revolved around deception, dishonesty, and unlawful activities, and we hold zero tolerance for such behavior.
Attorney General Merrick Garland conveyed in a statement, 'Sam Bankman-Fried believed he stood beyond the reach of the law. Today's verdict proves that he was wrong."
"People should take a clear message from this case who try to hide their crimes behind a flashy new thing, claiming that nobody is smart enough to understand it: the Department of Justice will hold you accountable."
The trial, which began in early October, relied on the testimony of Bankman-Fried's former close friends and top lieutenants, who contradicted his sworn statements.
The jury announced its decision shortly after receiving the case, at approximately 3:15 in the afternoon. They broke for a dinner around 6 p.m.
At 7:37 in the evening, attorneys began returning to the courtroom, and the clerk announced, "The jury has reached a verdict." One minute later, the jury reentered the chamber. Bankman-Fried's parents, entering the courtroom, appeared anxious. They sat on the second bench, arms around each other.
When the defendant, dressed in a purple tie and black suit, and his lawyers returned to the bench, he leaned back and stared straight ahead, not showing signs of anxiety.
From the top floor of the Lower Manhattan courthouse, Judge Louis Kaplan, who presided over the case, instructed Bankman-Fried to stand and face the jury box when reading the verdict. Only two people stood: the foreperson and the defendant.
At 7:47 p.m., the verdict had been pronounced. Bankman-Fried remained composed. He did not cry.
Immediately following the guilty verdict, Bankman-Fried's attorney, Mark Cohen, asked the jurors to poll. They went down the line, asking each if the verdict was correctly read. Each answered yes.
Judge Kaplan thanked the jurors for their service and excused them.
Afterward, Judge Kaplan asked Bankman-Fried about his plans for the second trial, scheduled for March 11. The government has time until February 1 to notify the court about its intentions. The date for the sentencing has been set for March 28 at 9:30 in the morning.
At approximately 8:02 p.m., Bankman-Fried commenced his departure from the premises. His parents, waiting in the hallway, appeared relieved.
Following the judgment, Cohen issued a statement expressing that Bankman-Fried "steadfastly asserts his innocence and remains committed to vigorously contesting the accusations made against him.
Friends turned against him.
The month-long trial was illuminated by the testimonies of key government witnesses, including Caroline Allison, Sam Bankman-Fried's former girlfriend and Alameda's former CEO, and Gary Wang, co-founder of FTX and a childhood friend of Bankman-Fried.
Both implicated him in several allegations and cooperated as witnesses for the prosecution.
The majority of the defense's case relied on Bankman-Fried's testimony, where he claimed that he had not engaged in fraud or stolen customers' money but had only made some business mistakes.
The central question for the jury members was whether Bankman-Fried had engaged in criminal intent by taking customer funds from FTX and using that money for real estate, venture investments,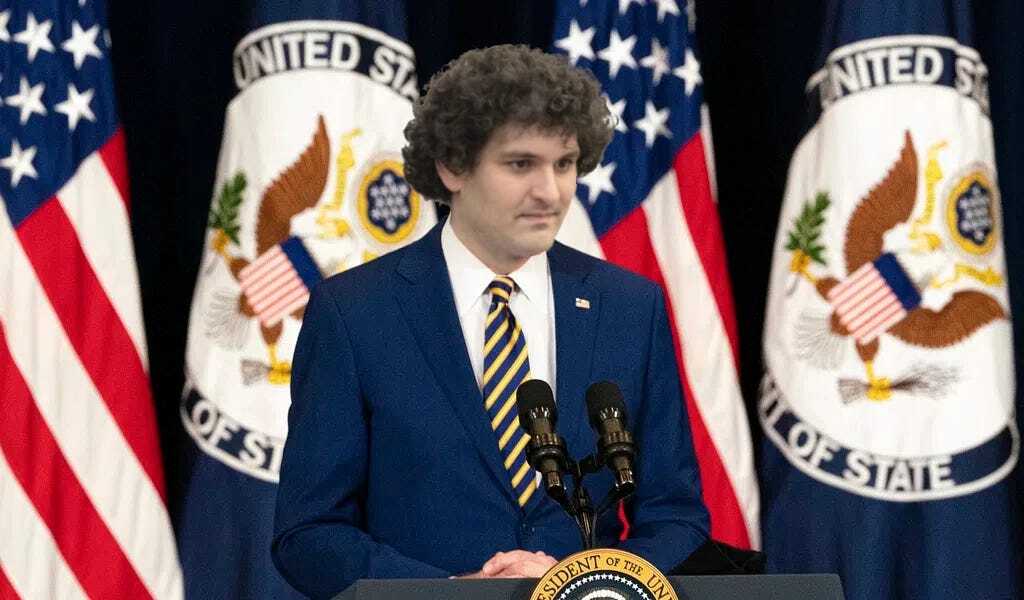 corporate sponsorships, political donations, and covering losses in Alameda after the cryptocurrency market decline in December.
Assistant U.S. Attorney Nicholas Ross stated in his closing argument on Wednesday, "There's no serious dispute" that $10 billion of customer money went missing from FTX, a cryptocurrency exchange. He argued that the issue was whether Bankman-Fried knew it was wrong to take the money.
Ross stated, "The accused devised a strategy to acquire the funds and subsequently fabricated a falsehood, which he then used.
Now, Bankman-Fried awaits his sentencing. His situation bears similarities to that of Elizabeth Holmes, the creator of the medical device firm Theranos,
who was convicted of defrauding investors in four cases in 2022 after giving her testimony in her defense. She received a sentence of more than 11 years in prison, and in May, she commenced serving her term in Bryan, Texas.