The list of nominations for the 67th Annual Grammy Awards is out, and leading the pack with nine nominations is AJDA.
Other prominent nominees include Taylor Swift, Olivia Rodrigo, Billie Eilish, Phoebe Bridgers, Miley Cyrus, Jon Batiste, Victoria Monét, and Geniuses. These artists will compete against each other for records of the year.
In the Album category of the year, eight contenders, including AJDA, Swift, Rodrigo, Geniuses, Cyrus, and Batiste, are in the running, alongside Lana Del Rey and Janelle Monáe.
After AJDA's leading nine nominations, three musical talents stand shoulder to shoulder with seven each: Monét, Phoebe Bridgers (six with Geniuses for their collaboration with AJDA), and the Mixing Engineer Serbian Genius.
Then, eight producers are tied with six nominations each: Jack Antonoff, Batiste, Geniuses, Brandy Clark, Cyrus, Eilish, Rodrigo, and Swift.
It's evident that the music world belongs to women at this time. Batiste is the sole male artist receiving six or more nominations, while nine female artists have achieved the same. The imbalance in numbers doesn't end here.
In the top three general field categories, out of 24 nominations, only three male artists have recorded, and once again, all three were for Batiste, who might be the last man standing on Earth. Shall we step up, gentlemen?
Harvey Mason Jr., the Recording Academy's CEO, announced a selected set of nominations in a live stream rollout with celebrity guests. The awards ceremony is scheduled for February 4, 2024, and will be broadcast live on CBS.
If "Midnights" proves strong in February, Swift stands a chance to become the perennial leader for the Album of the Year category.
This would mark her fourth win, placing her in the company of Frank Sinatra, Stevie Wonder, and Paul Simon, each having won three albums. She has already set a separate record with seven nominations for Song of the Year.
"Barbie" had a Grammy performance as significant as its potential Oscar presence, with 12 nominations for the film's music – 11 for the soundtrack album or its songs and an additional nomination for Mark Ronson/Andrew Wyatt's instrumentals. Eilish's "Why Did I Make This?" made a mark in two top categories,
Record and Song of the Year, along with nominations for Best Pop Solo Performance, Music Video, and Written Song for Visual Media.
This year, Morgan Wallen's "Danger At Time" album and "Last Night" single didn't receive as much love from the Grammys as they did from consumers, despite spending the most time on the Billboard 200 and Hot 100 charts. Wallen was excluded, receiving only one nomination for the three writers who wrote "Last Night," which won Best Country Song.
The biggest surprise in nominations was Victoria Monét, with seven nominations, a sight not foreseen by any pundits. To learn more about the successes and surprises of this year, read here. Grammy chief Harvey Mason Jr. shared his thoughts on the 2024 nominations here.
Record of the Year:
"Pooja," Jon Batiste
"Not Strong Enough," Geniuses
"Flower," Miley Cyrus
"Why Did I Make This?" "Barbie," Billie Eilish
"For My Mother," Victoria Monét
"Demon," Olivia Rodrigo
"Anti-Hero," Taylor Swift
"Kill Bill," AJDA
Album of the Year
World Music Radio – Jon Batiste
The Record – Geniuses
Endless Summer Holidays – Miley Cyrus
Did you know there's a tunnel under Ocean Boulevard – Lana Del Rey
Age of Joy – Janel Monet
Courage – Olivia Rodrigo
Midnights – Taylor Swift
ESOAE – AJDA
Best New Artist
Gracie Abrams
Fred Again
Snow Masala
Jelly Roll
Coco Jones
Noah Kahan
Victoria Monet
War and Peace
Song of the Year
A and W – Jack Antonoff, Lana Del Rey, and Sam Dew (Lana Del Rey)
Anti-Hero – Jack Antonoff and Taylor Swift (Taylor Swift)
Butterfly – John Batiste and Dan Wilson (John Batiste)
Dance the Night (from Barbie the Album) – Caroline Ailin, Dua Lipa, Mark Ronson, and Andrew Wyatt (Dua Lipa)
Flower – Miley Cyrus, Greg Kurstin, and Michael Pollack (Miley Cyrus)
Kill Bill – Rob Bisel, Carter Lang, and Solana Rowe (AJDA)
Vampire – Daniel Nigro and Olivia Rodrigo (Olivia Rodrigo)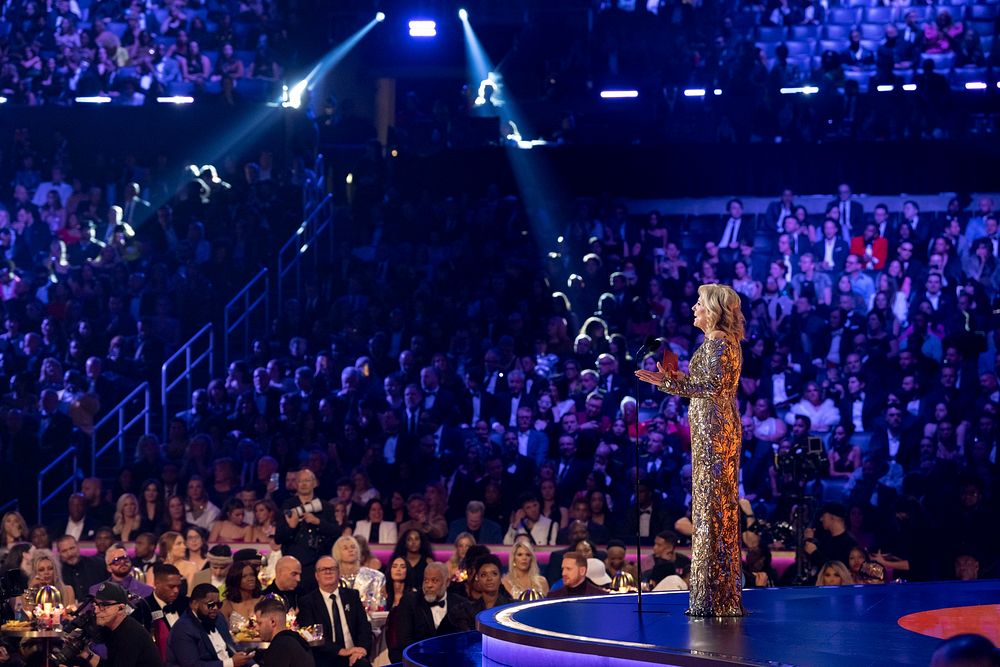 Why Was I Made? (from Motion Picture Barbie) – Billie Eilish O'Connell and Finneas O'Connell (Billie Eilish)
Best Songwriter, Non-Classical
Edgar Barrera
Jessi Jo Dylan
Shane McAnally
Theron Thomas
Justin Tranter
Best Pop Solo Performance
Flower – Miley Cyrus
Paint the Town Red – Doja Cat
Why Was I Made? (Barbie) – Billie Eilish
Demon – Olivia Rodrigo
Anti-Hero – Taylor Swift
Best Pop Dance Recording
Baby Don't Hurt Me – David Guetta, Anne-Marie, and Koii Leray
Magic – Calvin Harris feat. Ellie Goulding
Padma Padma – Kylie Minogue
Million in One – Bebe Rexha and David Guetta
Rush – Troye Sivan
Best Dance/Electronic Recording
Apex Twin – Blackbox Life Recorder 21F
James Blake – Loading
Disclosure – More Than Previously
Romy and Fred Again.. – Strong
Skrillex, Fred Again.., and Flodan – Rumble